Gifts That Give Back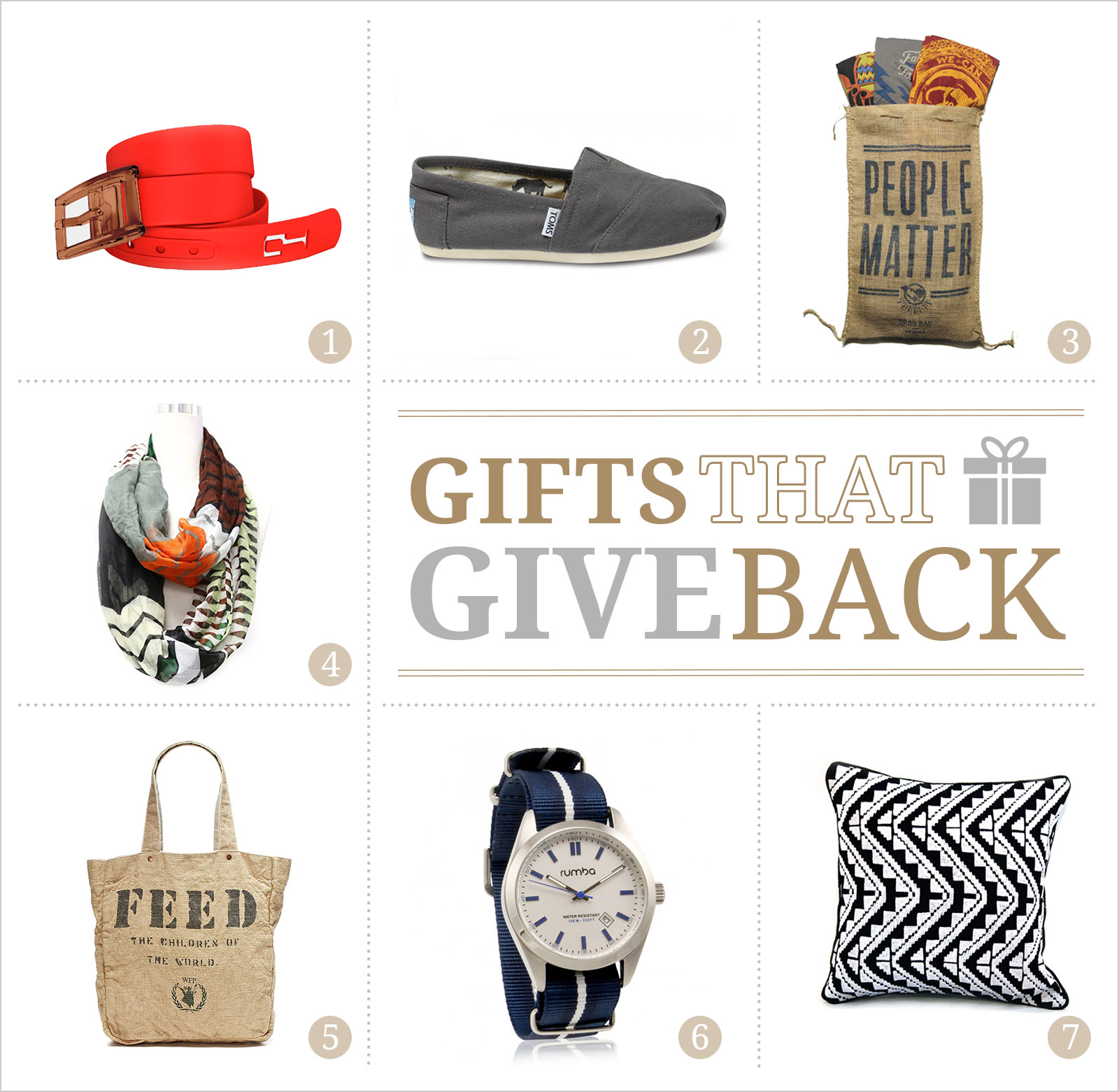 Give back this holiday season by purchasing gifts from companies that give back to charities and aid organizations. These retailers donate all or part of your purchase to end starvation, build clean water wells, donate shoes to children, and more. Feel better knowing that you're helping someone in need this holiday season.
1 – Looking for a new belt, or think that it would make a great gift for a friend? If so, make sure to check out C4 Belts. C4 creates and sells environmentally friendly, customizable plastic belts. Upon purchasing, you'll have the option to give back and donate to a variety of charities.
2 – You've all probably heard of TOMS before, but did you now that for every shoe sold the brand donates a pair of shoes to a child in need?
3 – Looking for some cool gifts for family and friends? Want to give back in the process? Sevenly is a great way to do so. They sell mens', women's, and children's clothing and accessories, and for each purchase that you make, Sevenly donates a portion to charity.
4 – Barnabas is a brand of clothing dedicated to giving back. 10% of sales go directly the the relief organization Living Room International. This organization is based in Western Kenya and aims to provide hospice care to those infected with HIV/AIDS who have been stigmatized by their communities.
5 – FEED is an online retailer that sells artisan bags, apparel, and accessories. Through the sale of these products they raise money for the United Nations World Food program to feed starving children around the world.
6 – When you're doing your holiday shopping this year, make sure to check out Hucksley, a marketplace of emerging brands that sells all kinds of items. Hucksley will donate 25% of its profit from your order to a charity of your choice.
7 – Accompany curates fashion, accessories, and home goods that have either a humanitarian, fair trade, or handcrafted element. If you shop from their "relief boutique" and buy a pillow woven in the Philippines as a gift, 100% of the proceeds go to benefit the Red Cross recovery effort in Haiyan.
If you're really in a giving mood, make sure to check out Portraits with Purpose. We are donating 100% of the proceeds of our portrait sessions to charity:water, an organization that builds clean water wells in locations without access to clean, drinkable water.